In earlier posts we had covered "Payment Processing"
https://faoblog.com/processes-ap-payment-processing/
https://faoblog.com/processes-ap-payment-processing-steps/
We received a request to share the process map for this process (Click on image for a larger view):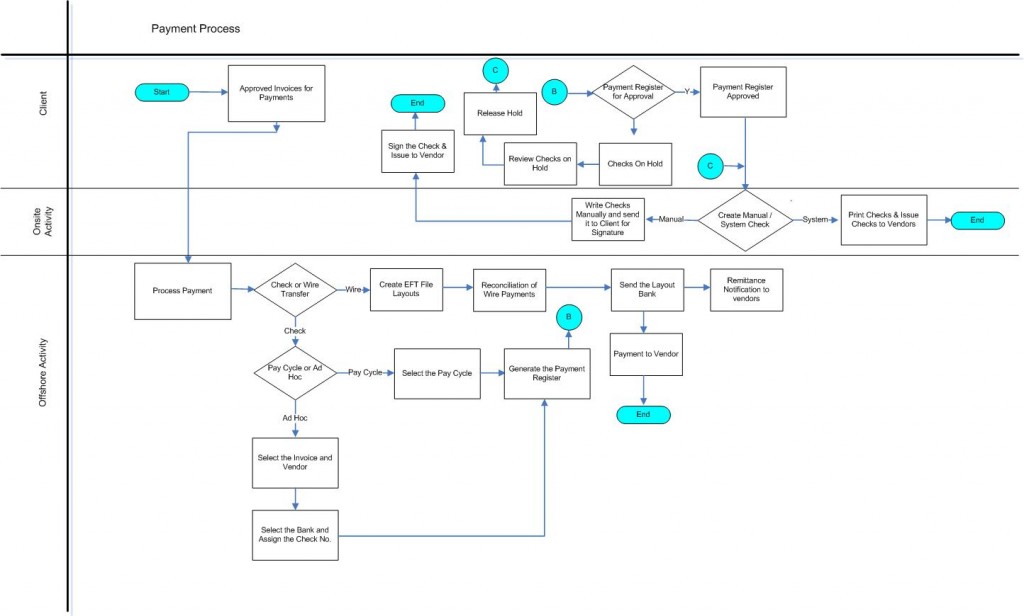 Last post we shared a workflow for query management and talked about payment administration.
https://faoblog.com/processes-ap-vendor-management-other-processes4/
There are other related processes as well.
Dispute Management
From a process perspective, Dispute Management involves components and similar stages as Query Management and Payment settlement.
This process also starts with receiving a dispute / disagreement from a vendor or an employee. Some of the query types can actually be classified under dispute management as well:
Different quantity of material sent and received vs. ordered
Purchase returns and rejected material
Material failing quality acceptance
Damaged delivery
Different discounts / early payments / interest on delayed payment adjusted
Non-receipt / application of remittances
Material lost / damaged in transit
Transportation cost components
Material delivered to an incorrect address of your client
Again, this is very much the same list, isn't it?
The moment the vendor (or employee) and your client lock horns, it calls for "Dispute Management". You will have a high level committee or duly authorized people to take decisions, which will be based again on geography, total amount in dispute and in a number of cases, for disputes on the contract terms as well.
We have enabled a button on the top of the first page, which will enable you share your posts. If you wish to write about any of the current streams, you can do it at https://faoblog.com/guest-post/. We will review your post and release it within 48 hours of your posting.